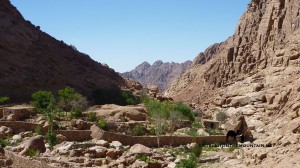 Stand on the top of Mount Sinai today and you'll gaze out over a vast rocky wilderness. It stretches out on every side, reaching faraway horizons; a foreboding, elemental place of high crags and windswept deserts, where green seems a forbidden colour and where there are few obvious signs of life. Go down from the top of the mountain though, beat off the tourist trail and wander its hidden parts and you'll discover a secret world; one where cypress, almond and hawthorn trees thrive in cool, shadowy basins; and where lush groves of trees stand in beautiful green orchards, watered by deep wells.
Venture away from Mount Sinai altogether, going deeper into the wild, rugged highlands and you'll find yet more orchards; vivid islands of green in a sea of red rock, adding a layer of mystique to the Sinai's landscape.
These roots of these orchards go back some 2000 years, to the days when Egypt was ruled as a province of the Roman Empire.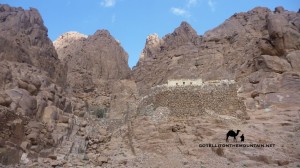 Many Christians fled to the high mountains of the Sinai at this time, scattering into the wilderness to escape the bloodshed they suffered under Roman rule. But these mountains were no easy refuge. They were a harsh, unfamiliar land for early settlers and survival was an ongoing struggle with constant deprivation. Nevertheless, they persevered and soon began cultivating the land with rough plots of wheat and barley, like they'd done at home.
Over several centuries, they came to understand the environment better; how they could irrigate small plots of land; what would grow and what wouldn't.
They soon began to build bigger orchards;, protecting them with stone walls, digging deep wells and experimenting with new, exotic trees. Many of these would die in the Sinai's lowlands; but they'd thrive in these high, cool parts of the mountains, where water was plentiful. Providence had smiled and everything from mulberry to fig, apricot, pomegrate and grapes was grown.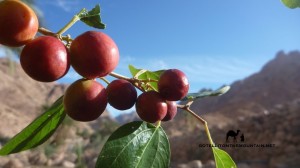 It was quite a shift. A cultivation tradition that had started with humble origins – out of the most basic necessity for survival – had become much more sophisitcated and ambitious, allowing the people of these deserts a better quality of life.
Over the centuries, the Sinai's Bedouin tribes learnt the techniques of orchard gardening too. And, as Christianity went into decline, it was the Bedouin who became the tradition's greatest guardians. They took over abandoned orchard plots and built many new ones. Hundreds of orchards appeared over the high mountains, with most in the territory of a Bedouin tribe called the Jebeleya.
Whereas other Bedouin tribes lived a more traditional way of life, migrating in the desert with goats and sheep, the Jebeleya became famous horticulturalists. They didn't abandon traditional ways of Bedouin life; they just re-framed them around the orchards, taking their flocks up to the high orchards in spring and summer before returning to lower climes in winter.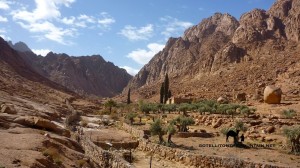 The rich bounty of the mountain orchards helped them live. Everything their families didn't eat, they could preserve for later. Alternatively, the produce gave them a valuable commodity to trade with other tribes or merchants on the coast.
For centuries, these orchards were vital; today though, they're in decline.
Times are changing and – like many Bedouin communities – the Jebeleya have been pulled into a more modern, settled way of life. Many live in the town of St Katherine today and their goals have shifted from simple subsistence ones to surviving in the modern economy of the towns. Here, they need material things; most of all, cash. And the orchards don't bring it.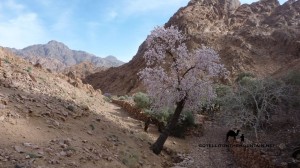 Mountain orchards are expensive and time-intensive to maintain today and, knowing their produce will be undercut in price by imports from the Nile Valley, or simply not having the cash or time to carry on, many owners have given up. Over 400 orchards were once active here. Now it's about 30; mostly those within walking distance of town, which individuals or small groups of people can tend alongside a regular job.
The tradition is dwindling towards extinction. But it's not over – not yet.
Some owners continue to grow fruit for their families, selling the remainder at a few local shops too. They're also diversifying to produce other stuff in demand like khudaree – organic tobacco the Bedouin smoke – and mountain honey. Some gardens are even developing themselves as places for hikers to sleep on long, multi-day treks. Today, rather than trying to revive uses that can't be sustained in a modern economy, people are trying to re-imagine what the gardens are and to re-frame how they can actually be used.
Some local charities are helping; they're deepening wells, building dams and buying equipment for the gardens or renovating them as accommodation. All of which is great; but in the long term, the gardens need to survive alone.
They have to create new economy; then make themselves parts of it.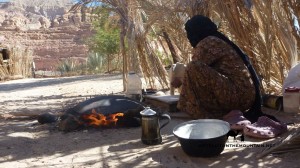 If you want to really help these orchards, use them. Ask around in St Katherine for their produce – fruit, tobacco, honey and herbs – as you can still find it. It puts money in the pockets of the orchard owners and helps them continue. And, if you're going trekking in the mountains, try sleeping a night or two in one. They're beautiful spots to stay; you can pull water out of ancient wells, pick fresh fruit from the trees and sample the hospitality for which the Bedouin are so deservedly famous. In staying in these gardens, you'll be doing your bit to create the new economy which can keep this little piece of the Sinai's ancient past alive.