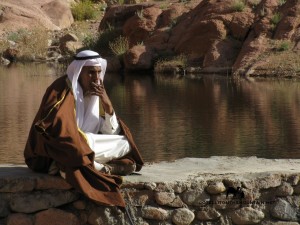 The Bedouin of the Sinai are different to the Egyptians; mainland Egyptians, that is, who live mostly in cities along the Nile. Whilst the Egyptians are historically a settled, agricultural people, the Bedouin are a people of nomadic origin who trace their origins to the deserts of Arabia. They call themselves El Arab. All that stuff from Egypt and the Nile – Pharoahs, sphinxes and pyramids – is foreign to them. The Bedouin and Egyptians don't just differ in historical identity: everything else, from dress to looks and everyday customs is different too. Here's a quick guide to blending in and being Bedouin too…
KNOW HOW TO TIE A SHEMAGH – shemaghs are Bedouin headwraps. You can tie them different ways, for different looks. Find one that suits you and learn it…
LIGHTING A CIGARETTE  – obviously, you don't want to waste a lighter. See that big, blazing branch in the middle of the fire? Yep, that one. Use that instead…
YA MARHABA! – Ya Marhaba! means 'Welcome'! and you'll hear it wherever you arrive. To reply, say 'ya marhabtayn': 'two welcomes!'.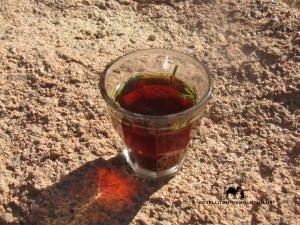 TASHRAB SHAY? – Tea is the one thing the Bedouin can't do without. They drink it virtually all day; on meeting, greeting, making a deal and in every other possible situation when there's an excuse. Even when there's no excuse at all. It's made black and sweet, with sugar dropped in by the handful. And it's always drunk from shot glasses. Making the perfect Bedouin tea is an art: perfect it and you'll be considered virtually Bedouin yourself…
BEDOUIN ARABIC: 'J' NOT 'G' – Arabic is an old language with lots of dialects. The Jordanians speak differently to the Moroccans, who speak differently from the Saudis etc. Egypt has a very distinctive dialect and Egyptians of the mainland say classical Arabic's 'J' as a hard 'G'. Being Arabs of the old school though – El Arab – the soft 'J' reigns  supreme with the Bedouin. So remember, with the Bedouin of the Sinai, you'll be climbing Jebel Musa – not Gebel Musa…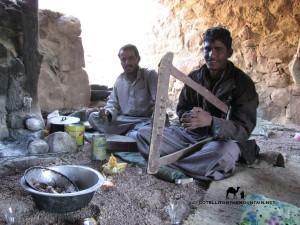 DO's AND DON'Ts – a few quick rules: DON'T point the soles of your feet at anybody when sitting down – it's a sign of disrespect. Go cross legged, or kneel with your feet tucked under you. DON'T eat with your left hand: the Bedouin use it to wipe themselves after the toilet, and it'll be assumed you do the same. DO take shoes off when entering a tent or home; DO stand up and shake the hand of any Bedouin man – not woman – who arrives where you are; and DO say hamdulelah – thank God – when you've had enough of whatever food you've been given. Otherwise, you'll be plied with more.
GUESTS ARE KINGS – remember this one. Hospitality is sacred to the Bedouin. When you meet people in the desert, they'll give you the best they can afford. Enjoy it when it comes and, when it's your turn to give it, give it too…
THINK OUTSIDE THE BOX – that's not a rusty old food tin, it's a teapot. And that's not an empty wine bottle, it's a rolling pin, and so forth. The Bedouin use anything they can, often setting out with nothing knowing they'll find what they need on the way. One man's garbage is another man's gold etc.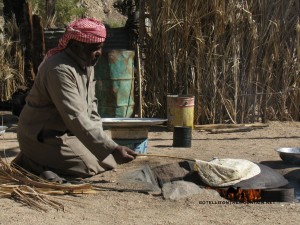 BEDOUIN BREAD – Bread is the basis of most Bedouin meals and there are two types: one fat, one thin. Libba is the fat one and you just mix water and flour into dough, pat it into a thick circle – about the size of a clock – then bury it in the embers of a fire for about 15 minutes. Farashee is thin bread – like a tortilla – that's stretched by throwing it from one hand to the other then put on a hot metal sheet over a fire for about 30 seconds. To begin, learn how to make libba…
YA RAAJIL – 'raajil' means 'man' in Arabic. 'ya raajil' is a slang expression, a bit like 'man' in English; usually used to show surprise, exasperation etc. For example, I might breeze into a Bedouin camp, sit down and start relating the events of the day. ' Yeah, so we had a great day out. We went up the normal way. Then explored the west face.  After that Rajab started looking dizzy. He stumbled, then fell down a huge ravine. I heard him groaning for a while. Then everything just went silent. On the up-side, it was a bloody great view. And an amazing sunset. Check out these photos…' To which the Bedouin might reply 'Ya raaajil???' [ie 'are you FOR REAL?'].  Ya raajil peppers Bedouin conversation: from the trivial to the weird, wonderful and profound. You can use it too, listening to the flow of the conversation, reading the body language and waiting for an opportune moment to interject.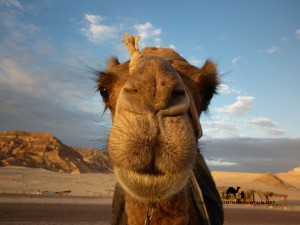 LEARN TO RIDE A CAMEL – Camels are the beloveds of the Bedouin. The fabled ship of the desert and the bedrock upon which their culture has been built. So you don't look like a complete amateur from the start, don't sit on a camel like a horse. From the horse position, leave one leg danging where it is; then bring the other up and rest it on the bit of hump you see in front. To look like you really know what you're doing click your salivary glands to move. And if you really want to look like a pro, learn a few camel commands before you get going.
FLUENT IN FIRE – Every night, for thousands of years, the Bedouin have lit fires in the desert. They've sat round them; staring into them, getting to know their secrets. They turn, prod and blow every bit of wood to get the longest, warmest possible burn out of everything; watch them and you can learn a lot.
SILENCE IS GOLDEN – What you see in the mountains, stays in the mountains. The Bedouin like the wilderness as a gossip-free place of retreat; not one where people report on each other. Don't bring anything back to the towns.
INSHALLAH! – this is a virtual addendum to the future tense in Arabic; especially for the Bedouin. It means 'god willing' and folks say it to to show everything's written. E.g. a Bedouin might say 'We'll be off this mountain and back in the camp at 8, inshallah'. To which you could concord: 'inshallah'. Likewise, it's often used if there's any personal agency in the equation: e.g. 'Can you keep a secret?' – 'Yes. Inshallah.'. To a Westerner's ear it can sound deliberately non commital; an advance, self-granted acquittal. But most of the time, it's not meant like this – it's just a quirk of the language and culture.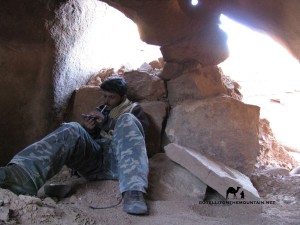 WHAT ARE THEY SMOKING? – Most Bedouin smoke. And most smoke Cleopatra; Egypt's cheapest cigarettes.  Those who can afford it go for brands like L&M or Rothman; the true Bedouin showman smokes Camel. The most Bedouin of the Bedouin smoke khudaree: a cheap, unprocessed tobacco grown in local Bedouin orchards. It comes in different strengths and they usually carry it in small tins; smoking it in rollie, usually without a filter, but sometimes with the aid of a cigarette holder. Many mistake it for marujuana – but it isn't. It means 'green' in English and – if you're a smoker – the Bedouin will love to see you try it.