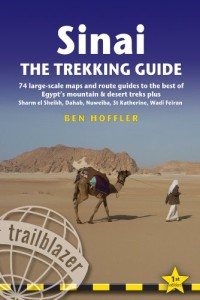 A few years after I'd started walking in the Sinai, I began writing a trekking guidebook about it for the UK adventure travel publisher Trailblazer. I started the research just before the first Egyptian revolution and it was released in January 2014. It's a practical DIY book: a where to go, how-to-do-it guide to both the trails and towns. It's the first trekking guidebook in any langauge about the Sinai and the only one you'd need to take to the region. By comparison, this blog is a more personal vision of the region; but there's still crossover and plenty of what's here is derived from what's there.
Sinai: The Trekking Guide was HIGHLY COMMENDED at the 2014 Outdoor Writers and Photographers Guild Awards Ceremony and you can read some of the REVIEWS published about it so far here too. Below them, at the bottom of the page, is a sample TREKKING MAP from the book.
'I'D NEVER CONSIDERED THIS PLACE AS A TREKKING DESTINATION, BUT THE BOOK IS SO WELL WRITTEN, I WAS LEFT FEELING THE ONLY THING I NEEDED WAS THE CASH FOR THE AIR FARE. IT IS A SPLENDID INTRODUCTION TO A LITTLE-KNOWN SLICE OF BACK-COUNTRY THAT CLEARLY DESERVES MORE ATTENTION AND A WIDER AUDIENCE. THE AUTHOR HAS UNDERTAKEN A VAST AMOUNT OF RESEARCH AND CLEARLY KNOWS THE AREA WELL. HIS LOVE AND ENTHUSIASM FOR THE PLACE COMES OUT IN HIS WRITING AND THE HAND-DRAWN MAPS INCORPORATING THE AUTHOR'S PERSONAL OBSERVATIONS ARE CHARMING' – JUDGES COMMENTS, UK OWPG AWARDS, 2014. 
'ALL YOU NEED TO KNOW' – TGO MAGAZINE, 2014 
'THERE IS MUCH MORE TO THIS BOOK THAN CAN BE SET OUT HERE. TRAILBLAZER AND BEN HOFFLER HAVE COME UP WITH A FASCINATING INSIGHT INTO THIS PART OF THE WORLD. WORTH A READ EVEN IF YOU NEVER GET TO THE SINAI' – BACKPACKER MAGAZINE, 2014
'IT'S A GREAT BOOK JUST TO READ WHETHER OR NOT YOU HAVE BEEN TO SINAI, BUT IT WILL ALMOST CERTAINLY MAKE YOU WANT TO GO THERE – SOON' – ASTENE MAGAZINE, 2014 
'FAB NEW BOOK…' – ADVENTURE TRAVEL MAGAZINE, 2014