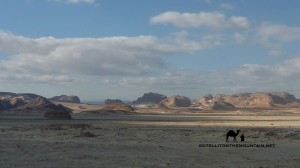 This is a wild, windswept area on the edge of the Sinai's rugged highlands; a more classic desert landscape of open plains and high dunes. Mountains ARE found here – mostly around the 1000m mark – but the area isn't defined by them in the same way others are. Two types of mountain are found more than any other: rugged sandstone masses with dome-like summits and sandy basins. And high plateaus that stretch across huge parts of the desert; long, desolate lines on the horizon. These mountains look totally different to the ones you find elsewhere and climbing them is different too. But they're just as amazing: and they hide some of the Sinai's best-kept mountain secrets and adventures.
Some of the desert's mountains are listed below. Soon, you'll be able to click on each one to go through to a blog post about it. I'm still filling them in; writing them up, and adding new stuff as I do it. But it's all coming.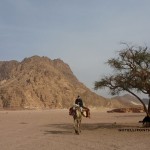 JEBEL MILEIHIS This is a high peak with a rugged, plateau-like top. One way, it looks out to the mountains of Saudi Arabia; the other, back to the summits around St Katherine. It's one of the Sinai's best spots for watching sunset and it's great to bivvy on top.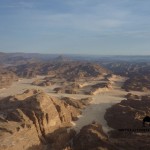 JEBEL BERQA Half way between two of the desert's biggest oases – Ein Hudera and Ein Umm Ahmed – this is also one of the desert's highest peaks, over 1100m. Its summit is ringed by a band of horizontal rock, giving an awkward, exposed rock climb in the final section.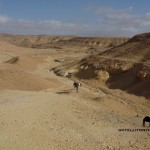 JEBEL GUNNA This is a desolate plateau that rises over 1000m. Canyons cut into its footslopes – the most famous being the Arada Canyon – and the mountain's high parts are prime territory for Bedouin fossil hunters; home to shells from the times this desert was at the bottom of the sea.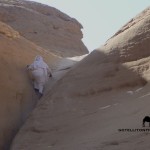 JEBEL MUTAMIR A rugged mass of sandstone with many peaks, separated by small basins and gullies. It towers up near the Nawamis: a cluster of 32 prehistoric tombs which probably date back about 6000 years; the eerie last relics of the peninsulas first mining people.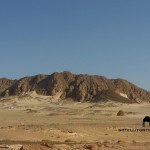 JEBEL BARQA This towers above a gigantic plain, giving a spectacular 360 degree panorama. Ancient inscriptions are found around the mountain and it's near Jebel Mahroom – a small hill with a windblown tunnel – and the Haduda Dune, the biggest in this part of the Sinai.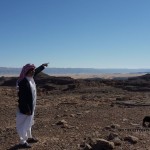 HADABAT EL TIH Sometimes called Jebel el Tih, or Badiyat el Tih, we know it as the Wilderness of the Wanderings. It's a high plateau that stretches in a near-uninterrupted line across the Sinai and it's said to be where God cursed Moses and the Israelites to wandered for 40 years.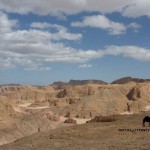 JEBEL RUM EL SAGAIYAR This is the 'little' Jebel Rum; a smaller sibling of the 'bigger' Jebel Rum, which is close by. This stands above the oasis of Ein Hudera, looking out to all the desert's main peaks. It has steep, loose slopes, making it tricky to climb from some sides.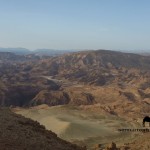 JEBEL RUM This is the bigger of the two Jebel Rums, at about 1200m. It's a high peak with gentle sides, interrupted by steep, colourful rock bands. Virtually never climbed, its summit has the best view to Jebel Berqa, along with an unforgettable panorama of Hadabat el Tih.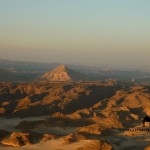 RAS EL QALB Some mistakenly call this Ras el Kalb, or Head of the Dog. Qalb means Heart; here, it means Heart Mountain, as it's said that's what the peak looks like. It has a similar feel to Jebel Berqa and stands north of Ein Umm Ahmed, one of the Sinai's biggest oases, giving a good scramble.